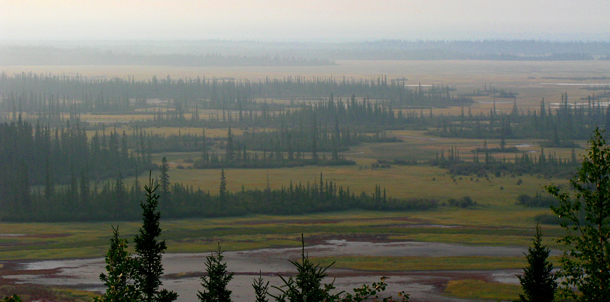 The world's remaining totally wild flock of critically endangered Whooping Cranes dances at its summer home in Canada's Wood Buffalo National Park. Michael Stein takes us to there in today's BirdNote®.
Transcript
CURWOOD: BirdNote today takes us to the second largest national park in the world. It's over 17,000 square miles and is a UNESCO world heritage site. And as Michael Stein tells us it's the summer home for America's tallest bird.
.
BirdNote®
Wood Buffalo National Park – Birthplace of Whooping Cranes
[Calls of Whooping Cranes]
In the Canadian north, where Alberta meets The Northwest Territories, lies the huge Wood Buffalo National Park. Here the Peace and Athabasca Rivers run through fescue grasslands, boreal forests, and wetlands of international significance. Here one of the world's most endangered birds, the Whooping Crane, comes to dance, nest, and raise its young.
[Calls of Whooping Cranes]
"I like to describe Wood Buffalo National Park as a place of superlatives," says park superintendent Rob Kent. "Visitors can see pristine ecosystems, 5,000 bison, 150-pound wolves, the largest freshwater delta in North America, and fire and ice that shape things on a grand scale."
Read more from source: Living on Earth: BirdNote®: Whooping Cranes