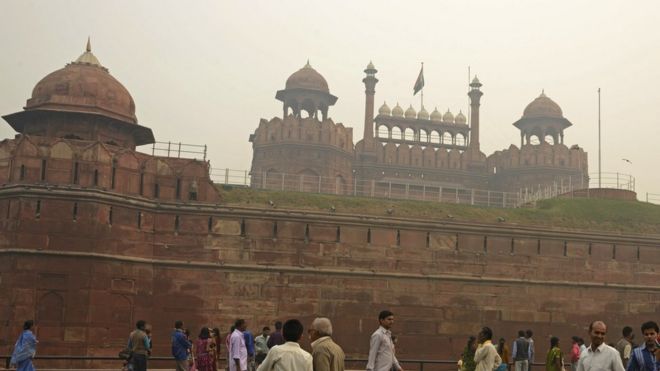 The Indian government's decision to give a 17th-century monument up for "adoption" to a private conglomerate has provoked both protest and support across social media.
The Dalmia Bharat group has signed a five-year contract worth about $3.7m (£2.7m) to maintain the Red Fort in Delhi.
This is the first contract involving a private company as part of the government's Adopt a Heritage scheme launched in September last year.
According to the contract, the group will work on maintenance, renovation and provide better amenities in the premises of the monument. It will also cover marketing for the site and it will be allowed to use its brand name inside the fort, prompting accusations that the country has "sold" its heritage.
India's tourism ministry later clarified that the agreement signed with Dalmia Bharat was "only for development, operations and maintenance of tourism amenities" in and around the monument and envisaged limited access to non-core areas.
The news nonetheless has divided opinion on social media.
'India on sale'
"Amid all the chest-beating about patriotism, Modi's govt has auctioned the iconic Red Fort to the highest bidder.
Read more from source: Indians upset over monument 'adoption'