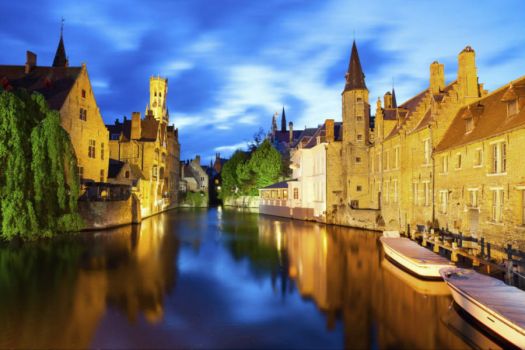 ………. Bruges – is the capital of the province of West Flanders and probably the most beautiful city of Belgium. They have their unforgettable atmosphere given not only by preserved medieval architecture reminiscent of former wealth, but also by a network of narrow canals. The historic center was listed in the UNESCO World Heritage List in 2000, and in 2002 Bruges became the European Capital of Culture. Today, 117,000 inhabitants live here, but tourists arrive a few million a year. You will not see any billboards and high-rise buildings, the traffic in the center is very limited.
It is worth mentioning the sporting events that take place around the Flanders circuit, which starts in Bruges, from the culture just to mention the film In Bruges (Bruges), in which the city plays a significant role and which beautifully describes its atmosphere.
According to this beautiful town hall, the town hall was built in Brussels, Ghent and Leuven. This town hall was built by the town hall in Brussels, Ghent and Leuven.
Read more from source: Jigidi – Free online jigsaw puzzles