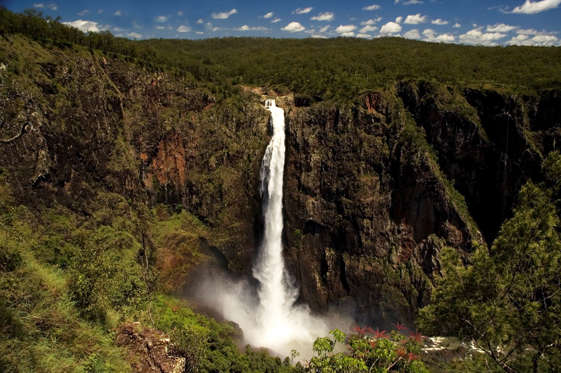 CHITRAKOTE FALLS, CHHATTISGARH, INDIA
Often known as the "Niagara Falls of India," the falls are located in Kanger Valley National Park and are shaped like a horseshoe. The water falls from the height of 95 feet (29 meters) and the waterfall is known to be the widest in the country.
VENTISQUERO COLGANTE FALLS, AYSÉN REGION, CHILE
Located in Queulat National Park and discovered in 1875, the falls start from the base of Ventisquero Colgante — also known as the Hanging Glacier — and are shaped by the same glacier. Though the height of the falls isn't measured, it's believed that the total drop is around 1,800 feet (549 meters) or more.
VICTORIA FALLS, ZAMBIA AND ZIMBABWE
With the width of 5,604 feet (1,708 meters) and the height of 355 feet (108 meters), the falls are known to be the largest waterfall in the world in terms of area covered. Locals quite aptly call it Mosi-oa-Tunya, which means "the smoke that thunders."
BURNEY FALLS, CALIFORNIA, USA
Called "the Eighth Wonder of the World" by former U.S. President Theodore Roosevelt, the falls are 129 feet (39.3 meters) high. Nestled in the McArthur-Burney Falls Memorial State Park, the falls were enlisted as a National Natural Landmark in December 1984.