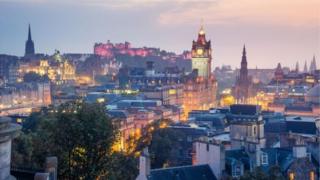 A new plan for Edinburgh's Old and New Towns World Heritage Site has been launched.
It includes commitments to improve the quality of new development, better manage tourism growth, and raise residents' understanding of the site.
The area, inscribed by Unesco in 1995, covers the city centre from Quartermile to Dean Village and from the west end to the Palace of Holyroodhouse.
The new plan to manage the site will run for five years.
The plan was drawn up by City of Edinburgh Council, Edinburgh World Heritage and Historic Environment Scotland.
Recent research shows that public understanding about the site is low – for example, only 8% of 16-24-year olds in Scotland are aware that Edinburgh's New Town is part of a World Heritage Site.
The council recently granted the lease for the Tron Kirk on the High Street to Edinburgh World Heritage for use as a World Heritage centre.
The plan also commits the city to better manage tourism growth and covers areas such as short-term holiday lets and issues over street cleanliness.
'Benefits everyone'
Read more from source: Five-year plan for Edinburgh heritage site