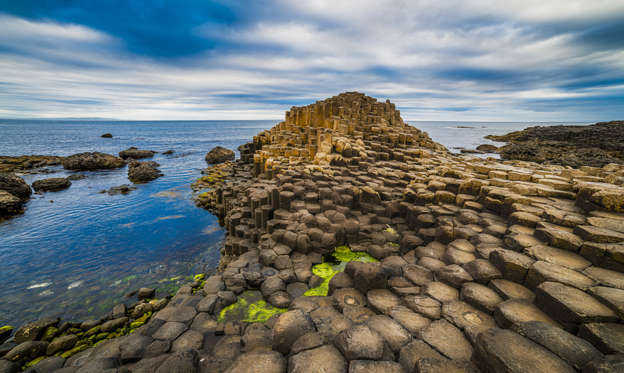 GIANT'S CAUSEWAY (NORTHERN IRELAND)
Declared a World Heritage Site by UNESCO in 1986, this is one of the most popular tourist attractions in the country. The Giant's Causeway is located in County Antrim on the north coast, three miles (4.8 km) northeast of the town of Bushmills. The eroded tops of the hexagonal columns make a natural walkway, with the tallest of them being 12 meters (39 ft) high.
DANXIA LANDFORM (CHINA)
Listed as a UNESCO World Heritage site in 2010, locals call this place "the eye candy of Zhangye." Also called "Rainbow Mountains", it is in Gansu Province, in the Zhangye Danxia Landform Geological Park. The landform was created as the result of red sandstone and mineral deposits pressed over a period of 24 million years, and further shaped by millennia of rain and wind carving paths through the rock.
MOERAKI BOULDERS (NEW ZEALAND)
These large and spherical boulders are found on Koekohe Beach in South Island. They are at least 60 million years old (the largest may have taken four million years to get to its present size) and were formed by sedimentary action on ancient sea floors.