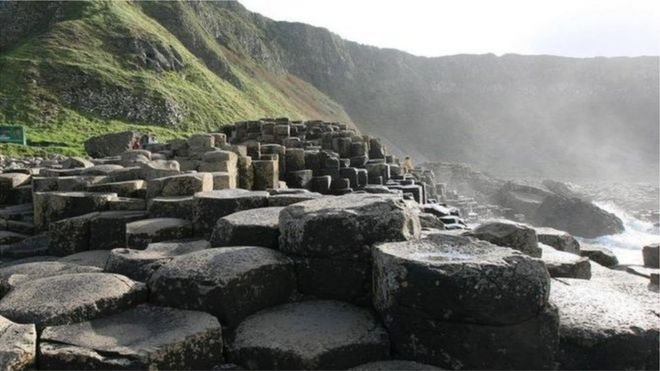 Signs belonging to the National Trust near the Giant's Causeway may be challenged after a council voted to protect public access to the site.
The signs tell the public they are accessing the famous tourist spot with the National Trust's "permission".
The trust operates a visitors' centre at the Unesco World Heritage site but the public can also visit the causeway free of charge from certain pathways.
The trust said it was working with the council over "public rights of way".
'Misleading signs'
The signs, which were erected last year, prompted ramblers and residents to complain to Causeway Coast and Glens Council.
At a meeting of the council's Leisure and Development Committee on Tuesday night, a motion was proposed to "protect all public right of way" in the borough.
The motion claimed the signs could "mislead the public" into believing they do not have an automatic right to walk in some of "the most iconic parts" of the world heritage site.
It was proposed by Independent councillor, Padraig McShane, who told BBC News NI it was passed "without challenge".
Source: Giant's Causeway access to be protected