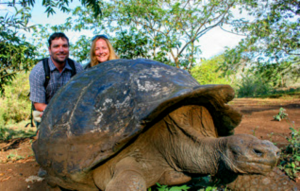 Growing each year in popularity, the Galapagos Islands are a highly sought-after vacation destination. It is also one of the world's most fragile ecosystems.
The appeal of this archipelago off of Ecuador's coast can be likened to the goose that lays the golden egg. Becoming too popular, said Todd Smith, founder and president of AdventureSmith Explorations, means risking uncontrolled growth in tourism and infrastructure for this UNESCO World Heritage Site.
"This could lead to eroding the very ecosystems that support the bird life, flora and fauna that people travel here to experience," he said.
As an international leader in small ship cruising, Smith seeks to position his company and clients to be part of the solution, keeping the region's best ecological interests in mind – and not adding to the problem of over saturation.
"We want to help make a once-in-a-lifetime journey to the Galapagos the best trip possible when it comes to fulfilling travel dreams and to securing the future health of the islands," he added.
Following are AdventureSmith Explorations' guidelines on how to do the Galapagos right.
Source: AdventureSmith Explorations Details Responsible Ways to Visit the Galapagos That Protect Fragile Ecosystems