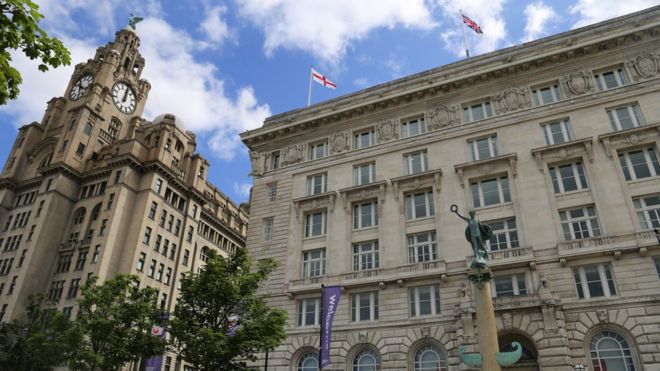 Liverpool's World Heritage status remains under threat amid plans to regenerate the city's waterfront.
A £5bn regeneration plan on Liverpool's historic waterfront is to be reviewed after the project put the city's World Heritage status under threat.
Unesco raised concerns about the impact of the Liverpool Waters scheme, adding the site to its danger list in 2012.
Developer Peel has now said there is "no likelihood" of the project being developed as originally planned.
Liverpool City Council has also proposed a raft of measures aimed at preserving the city's heritage status.
They could include new planning guidelines and a height policy for buildings.
Liverpool Waters was approved in 2012 and includes plans to regenerate 60 hectares of dockland with apartments and a cruise liner terminal.
However, Unesco expressed "deep concern" about the 30-year project, and said the development could affect the character of the area.
The city council has responded by commissioning a report, which will be discussed by the authority's cabinet ahead of it being examined by Unesco.
Source: City's bid to save World Heritage status