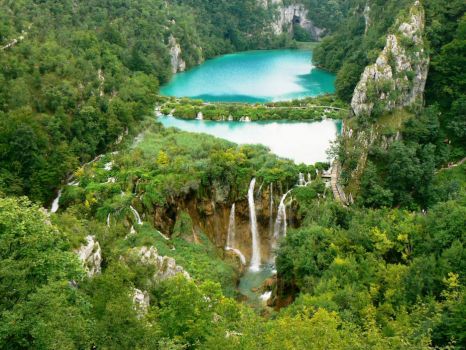 Plitvice Lakes National Park (Croatian: Nacionalni park Plitvička jezera, colloquial Plitvice, pronounced [plîtʋitse]) is one of the oldest and the largest national park in Croatia. In 1979, Plitvice Lakes National Park was added to the UNESCO World Heritage register.
The national park was founded in 1949 and is situated in the mountainous karst area of central Croatia, at the border to Bosnia and Herzegovina. The important north-south road connection, which passes through the national park area, connects the Croatian inland with the Adriatic coastal region.
Plitviče Lakes National Park is a 295-sq.-km forest reserve in central Croatia. It's known for a chain of 16 terraced lakes, joined by waterfalls, that extend into a limestone canyon. Walkways and hiking trails wind around and across the water, and an electric boat links the 12 upper and 4 lower lakes. The latter are the site of Veliki Slap, a 78m-high waterfall.
The national park is world-famous for its lakes arranged in cascades. Currently, 16 lakes can be seen from the surface. These lakes are a result of the confluence of several small rivers and subterranean karst rivers. The lakes are all interconnected and follow the water flow.
Source: Jigidi – Free online jigsaw puzzles