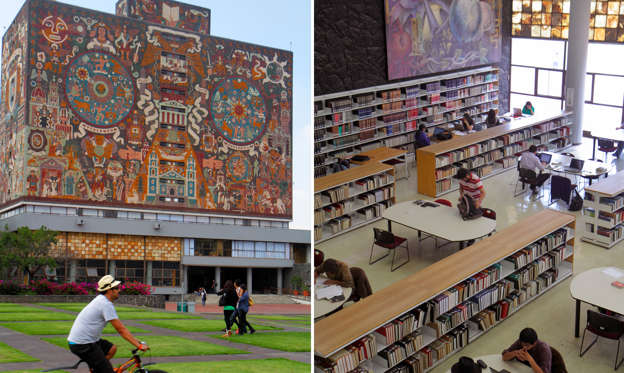 CENTRAL LIBRARY OF NATIONAL AUTONOMOUS UNIVERSITY OF MEXICO
Situated at the National Autonomous University of Mexico, a Unesco World Heritage Site in capital Mexico City, this library holds around 500,000 books. The external walls of the 10-story building are decorated with colored stones that depict the pre-Hispanic heritage of the country.
THE LIBRARY OF TRINITY COLLEGE, DUBLIN
Home of the famous eighth-century Book of Kells, the library came into existence along with Trinity College in 1592 in Dublin, Ireland. In 1801, the library was given the legal deposit right that allowed it to receive a copy of all works published in the Republic of Ireland. The Long Room of the building houses a collection of 14 busts from the famous Belgian sculptor Pieter Scheemaeckers II. It also holds the last remaining copies of the 1916 Proclamation of the Irish Republic.
THE IOWA STATE LAW LIBRARY, US
From a small collection of 612 books in 1868, the library in Des Moines, Iowa, now holds one of the largest collections of print, microform and electronic material in the U.S. at 1.3 million volumes.