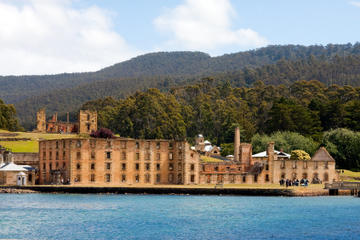 Tasmania's No. 1 visitor attraction is the former convict settlement of Port Arthur, a ghostly and eerie heritage area just outside Hobart. Built to reform and rehabilitate convicts, Port Arthur was a key part of convict discipline within the Colonial system whose philosophy was "a machine for grinding rogues into honest men." Today, the site is part of the Australian Convict World Heritage sites and is listed as a UNESCO World Heritage site.
Covering about 100 acres (40 hectares), the crumbling ruins of the penal settlement include the Penitentiary, the Separate Prison, the Dockyard, the Port Arthur gardens, the Coal Mines Historic Site, Cascades Female Factory and Gothic church.
The stories of Port Arthur are told in many different ways. Interactive displays tell the tragic story of the 12,500 convicts who served time here from 1830 to 1877, and after-dark ghost tours reveal the presence of the site's many ghosts.