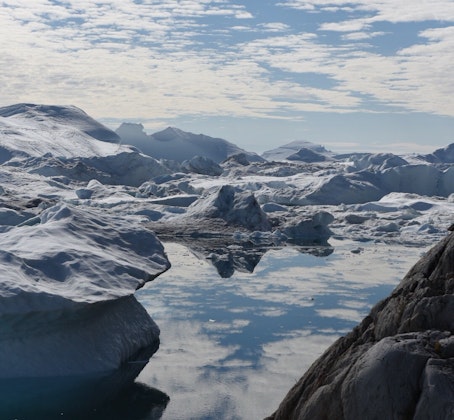 Hike along the Ilulissat Icefjord and see icebergs from one of the most active glaciers in the world. It's easy to see why Disko Bay is an UNESCO World Heritage Site!
Hike a 6.9km trail starting from the Old Heliport in Ilulissat and ending at the Quarry in Ilulissat.  Luckily, Ilulissat is a very small town and although this hike starts and ends at different points, it's very easy to get back to the main part of town just by looking around when you finish the hike.
From the main part of town, take Kussangajaannguaq to Alanngukasik then make a left on Kuunnguarsuk and keep walking until you reach the Old Heliport.  Here, you will see a large sign with maps of all of the trails around the icefjords.